How do you connect with and support the customer at every stage of their journey you're your business? The answer is simple – content. It is no less than an asset that helps build trust and contributes to brand equity. No wonder 82% of marketers have used content marketing actively in 2021 and 56% say it is effective. But what is "intelligent" content? Well, when human abilities and technology are integrated, intelligent content is born. It is structured, format free, streamlined, reusable, adaptable and semantically rich.
Image Source: wordstream.com
Japanese auto maker, Yamaha, saw an 85% increase in page views and a 100% increase in mobile traffic with intelligent content. Hewlett Packard experienced a 3-5x lift in content recommendations and a 126% rise in engagement. The best part is that it does not require human micromanagement and input. The procedure is data-driven, capitalizing on AI and ML while blending the "mortal" essence.
Intelligent Content: An Overview
The key benefits of this method are multichannel publication, resource-saving, uninterrupted communication and customization. It is better than conventional content, since blogs do not need to be handcrafted. Cost-saving is ensured by automating labor-intensive processes. The content blocks are reconfigurable too, for personalized reusability.
Image Source: precisioncontent.com
Intelligent content is meant to fulfill 4 core purposes, while overcoming traditional challenges of manual writing, like failing to identify audience pain points.
Accuracy: Offering tailormade content to the right person via the right channel.
Adaptiveness: Content that can be compliant across channels.
Efficiency: Fewer risks of plagiarism or duplication.
Unification: Logical and consistent brand identity and voice.
But don't confuse "intelligent" with "smart" content. The main aim here is to draw a well-defined audience to encourage profitable action. It differs from content marketing in terms of its purpose. Intelligent content mainly meets the criteria of being flexible, data-driven, structured and modular. It is an excellent choice for web experiences to boost organic traffic and generate better leads.
Benefits of Intelligent Content in 2023
Companies, especially health care or consumer goods, may witness conversion cost reduction of up to 20% when they blend AI into their business processes. Other advantages are:
Competitive market advantages for better revenue.
Better impressions on both human-run and robot channels across sales metrics, sales channels and sales lifecycles.
Reduction in developmental, maintenance and review expenses.
Excellent content ideas for a fun and innovative read.
Simple Yet Powerful Ways to Get Started
Start with creating posts that are easily understandable. This is helpful for Siri, Alexa and Google to fetch appropriate answers within seconds. Short-form, digestible data is also useful for internal and external cognitive platforms, marketing automation and BI. The use of AI soared between 2018 and 2020 increasing from 29% in 2018 to 84% in 2020, as per a Salesforce Research report. Automation is a key component of intelligent content.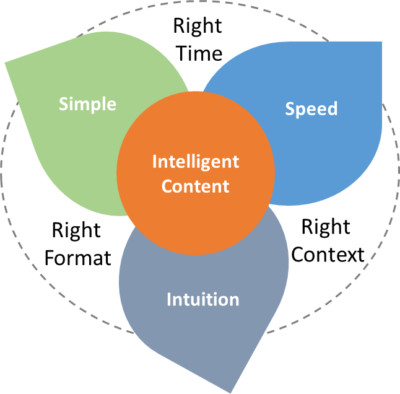 Image Source: capgemini
But remember that the content writing strategy must include evergreen data. For instance, avoid talking about a particular trend that will wear out soon. Instead, create blogs and articles on perennial topics, such as how to train your dog at home. This will remain relevant for years and add value to a diverse set of readers.
Repurpose content by adding podcasts, videos and infographics. This is applicable for both technical and marketing posts. It can assure high-end value, much beyond the cost of creating the piece. But make sure it is not an exact copy since Google may slap a penalty with ranking loss. Also, reuse only quality content for best results.
Intelligent content also includes metadata tags that help in discovery and identification via keywords and titles. In short, it is one of the most effective ways to survive in ever-changing customer demand. It might help you add a new dimension to your marketing efforts.